Our Principals have tremendous technologies and core-competencies.  We are excited to share just a few highlights with recent Principals' innovative products, capabilities and technology announcements:

Torex

https://www.torexsemi.com/for-you/xcl-intro/
Innovative Technology results in Innovative Product Family:
Introducing Torex's game changing XCL family of micro DC/DC converters with integrated inductor. The "micro DC/DC" XCL series is an ultra small family of DC/DC converters that integrates a coil and control IC using unique to Torex technology. Torex's unbending dedication as a power IC manufacturer to maximize DC/DC converter performance has yielded a product that simultaneously achieves space-saving, high efficiency, low noise, high heat dissipation, and low cost.
In particular, Torex highlights the space savings, best in class noise, and heating structure optimization of the XCL family. The saving of mounting space and high efficiency go without saying with the "micro DC/DC" XCL series; three types are available to meet your needs: an ultra-small "pocket type" with low EMI noise that supports currents up to 1A, a "stack type" that simplifies the manufacturing line to achieve low cost, and a "multiple type" that incorporates a large coil and supports large currents.
A variety of package options enables the incorporation of a coil that best matches the control IC, and the result is a "micro DC/DC" XCL series lineup that can be used in a wide range of environments. Improving power conversion efficiency is a key point in miniaturizing a power circuit. When semiconductor and electronic components are made smaller, the resistance component increases and the loss appears as heat generation. Heat generation leads to impaired component performance and lower reliability of the overall device set. Because Torex's "micro DC/DC" XCL series reduces the loss of efficiency that accompanies miniaturization, optimization of the power circuit from component selection to the heat dissipation structure realizes a small, high-efficiency DC/DC converter.

ThreeFive Corporation 
System Solutions:
ThreeFive has system solutions and integration for all types of applications.  ThreeFive's strength lies in their ability to analyze complex problems and provide innovative solutions to our customers, assuring that customers needs are met through technological, design and production expertise.
ThreeFive recognizes that System Value is derived from innovative designs, modular engineering, quick time to market, material cost control, and low cost manufacturing for any volume.  ThreeFive innovations include new human interface solutions in touch and assembly with an ever expanding roster of devices; including medical, commercial, industrial, GPS devices,  remote control and anywhere we see display technology.
ThreeFive specializes on systems that integrate OEM's and ODM's application-specific and integrated solutions that meet their needs. ThreeFive's system based approach assures you get the system solution for your application at the value and timing  you required.
Systems that integrate: 
Touch Panel, buttons; "human interface"

Display technology

Human interface

Backlights

Plastics

Lenses

PCB's

Firmware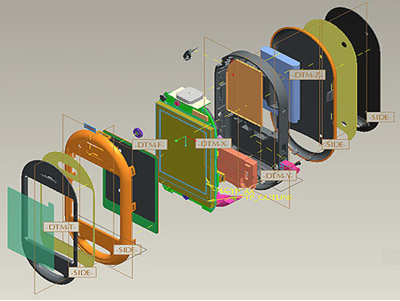 Three Five Introduces Its New Monitor Series
These self-contained highly effect units have been brought forward for the customer that either doesn't want an integrated solution on their own or is looking for a nicely finished unit with ease of use and installation.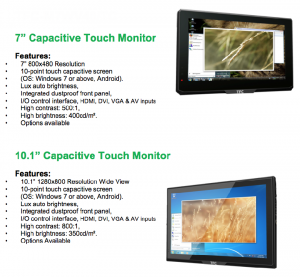 ThreeFive Introduces Its New Round Displays Technology
"ThreeFive Introduces Its New Round Displays Technology" (Click Here)
Aceinna

Technology: MEMS (Micro-ElectroMechanical Systems) Thermal Mass Flow Sensors
Flow measurement is critical in many applications, including semiconductor manufacturing processes, chemical processes, medical devices and natural gas metering just to name a few.
MEMS thermal mass flow sensors have been explored extensively for their simple structure and implementation. MEMS technology is amenable to creating micro-heaters and thermal sensors with no moving parts, thus simplifying fabrication and operational requirements. Other advantages of thermal mass flow sensors are small size, short response time, low power consumption and higher sensitivity to low flow rates.
The thermal mass flow sensor typically consists of upstream and downstream temperature sensors (thermopiles) and a heater located between the two temperature sensors as shown below.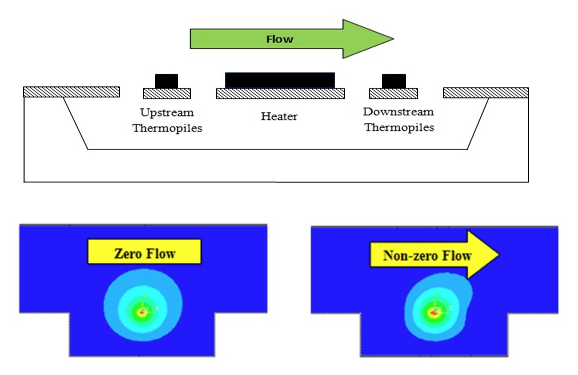 The flow rate is detected by the MEMS thermal mass flow sensor consisting proprietary CMOS compatible technology. If no gas flows over the sensor surface, the symmetric thermopiles measure the same rise in temperature, resulting in the same output voltage of the two thermopiles. If a non-zero gas flows from the inlet to the outlet of the meter, the velocity of a fully-developed laminar air flow unbalances the temperature profile around the heater and heat is transferred from upstream thermopiles to the downstream thermopiles, causing a change in the voltages of the thermopiles. Larger gas flow rates result in larger asymmetry in the temperature profile.
Samsung
http://www.samsung.com/global/business/semiconductor/
Technology: Samsung Enterprise SSD vs Client SSDs – They are very different!
Samsung's leadership in SSD development and market dominance, as the worlds leading supplier of SSDs in Enterprise use, has lead to the highest reliability, highest use rate SSDs in the world.  First, client SSDs are not designed or validated for enterprise use, and are not warranty supported if used in an enterprise application.
Enterprise SSDs have their NAND chips validated to withstand the much greater enterprise P/E cycles demanded.  Enterprise-grade data protection against power loss is only found in enterprise (not client) SSDs with built-in backup power circuitry.  Enterprise SSDs also have a much higher level of over provisioning for enterprise level IOPs and much higher lifespan requirements.
SSD technology –  Leading the world markets with the highest performance, highest density and smallest lithography flash components and related SSD (Solid State Disc Drives); Samsung's 3D-VNAND technology (currently GEN-3 at 48 layers 20nm technology) will soon be shipping GEN-4, 64 layer, 10nm products allowing for SSD density to move from current 16 TB to 32 TB products.  All of this allows NVMe SSD's at 10X the density of our competition ad 50X the IOP performance of rotating media for about the same or lower cost per bit.  Check out Samsung's 3D-VNAND technology video at https://www.youtube.com/watch?v=oJTWSg7Bfrc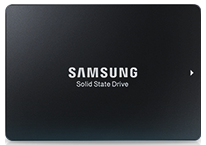 Aimtec 
Innovative Products:
AME series AC-DC converters expedite and simplify industrial and commercial product design as a highly affordable solution while offering the smallest possible footprint. The regulated 1 watt AME1-AZ, 2 watt AME2-AZ, and 3 watt AME3-AZ series are packaged in a miniature length width and height of only 1.33 x 0.87 x 0.71 inches (33.70 x 22.20 x 18.00 mm). These converters have EMI (EN55022, class B) filtering built-in eliminating the need for external components.
Features include: Input / Output Isolation of 3000 VAC, Over Load Protection, Over Voltage Protection, Short Circuit Protection, Soft Start, Energy Star Compliant  (No-load power consumption less than 0.3 watt). Safety approvals include cULus, CB and CE.
The standard package is available with 3.3, 5, 12, 15 and 24 VDC output ranges, with a universal input of 90 to 305VAC (optional 90-528 VAC), 47 to 440Hz, or 130 to 430 VDC. Operational temperature range of all models is -40ºC to 80ºC.
http://www.aimtec.com/regulated-1-2-and-3-watt-ac-dc-converters-offers-broadest-input-range-smallest-footprint-and-no-minimum-load-required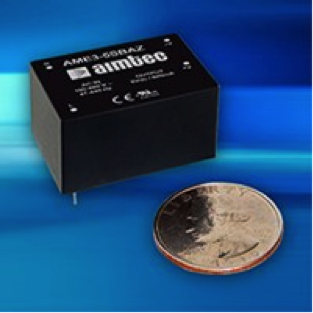 ProTek Devices
http://www.protekdevices.com http://www.aimtec.com
Experienced Solutions: Protek's "expertise" advantage in protection devices!
ProTek's "expertise" in using semiconductor technology provides for a wide range of high-performance TVS protection devices. ProTek's "expertise" provides application specific solutions for electronic equipment/systems within the following industries; telecommunications, consumer electronics, industrial, medical, aerospace and military applications. From the smallest DFN to large surface mount packages, ProTek products support any size application using their highly scalable architecture!
The secret to ProTek's diversity is their highly qualified and accredited staff including some of the industry's best engineering talent. Their engineers are active members of IEEE, NEMA, JC-13, JC-22 and IEC and other industry associations, and have contributed significantly to the formation of current standards, specifications and electrical codes for surge suppression methodology.
Committed to providing quality products that meet or exceed your expectations, combined with an excellent customer service experience; ProTek leads the way in electronic protection solutions!

Viking Technology

http://www.vikingtechnology.com

Innovating with Technology:
Viking Technology is a global technology leader in the fields of RF, Optical, Microelectronics and Memory technologies. With over 25+ years of experience in Engineering, Design, Manufacturing and Test, Viking Technology has led some of the most leading-edge OEM solutions for the embedded/industrial, medical, telecommunications, and military/aerospace markets. Viking Technology specializes in Non-Volatile DIMMs (NVDIMM), Solid State Drives (SSD), and DRAM solutions. With a breadth of products that spans embedded flash solutions such as eUSB, Secure Digital (SD), mSATA, SlimSATA, and M.2 SSD to enterprise Flash solutions such as 2.5in & 1.8in SATA/SAS SSDs. Viking Technology also offers one of the most comprehensive lines of DRAM solutions spanning from DDR4 to legacy support of DDR1 in every form factor both standard, ultra small, unique, and custom designs. Viking Technology's engineering services, design, and expertise also support strategic partner engagements to enable customized solutions not found anywhere else. These solutions span technology engagements in ultra extreme temperatures (-40oC to +200oC), ruggedization, shock & vibe, high-density die stacking, conformal coating, heat dissipation, miniaturization, future storage class memory, and specialize form factor designs. Lastly, Viking Technology is the leader in NVDIMM technologies, support persistent memory storage and Energy Subsystems (ESS) supercapacitors both standard and customized.